Did you know Pure Therapeutic Ketones® make GREAT holiday gifts?! 🎁
TODAY ONLY you can score 35% OFF Max Experience Packs AND when you buy 1 box of any KETO//OS® MAX, you will receive 1 FREE box of KETO//OS® Max Maui Punch!
Offer ends tonight at 11:59pm CT.
(The free box of Maui per order containing any MAX product* will AUTOMATICALLY ship with each individual order.) *Excludes MAX Variety pack which is already discounted by 35%!
ashleywarren.pruvitnow.com
Referral Code: ashleywarren
Or go to www.thatketonegirl.com and click on "Shop"
***Remember to activate your Smartship by placing your favorite flavor on smartship to receive 22% off every month moving forward plus a free additional box on your 4th month!***
​
Harvest Sunrise, Purple Reign and Vanilla SKĪ are also available NOW! 
Grab a box and score a FREE box of Maui Punch when you buy any flavor of MAX!
SOME OF THE AMAZING BENEFITS OF KETO//OS & MAX:
Fat Loss
Muscle Preservation
Fast & Sustained Energy
Reduces Brain Fog
Appetite Suppression
Strength Gain
Better Mood
Better Sleep
Better Digestion
Watch How Keto//OS Works!
​
So you are LOVING KETO//OS, KETO//MAX, KETO//KREME and all of Prüvit's other awesome products. You have experienced better as a customer, you have your favorite products on SmartsShip earning 22% off each month. Maybe you have shared your experience and customer referral link with 1 relative, 1 friend, 1 neighbor & 1 co worker and helped them get started as well and now you're earning your ketones for free. What now?
Consider joining this movement and help us champion and share this Keto conversation by partnering with Prüvit as a promoter and become a Keto Lifestyle Coach with Ashley Warren // That Ketone Girl.
It's only $37 annually to be able to earn commissions on all orders coming to your site.
Yep. That's it. $37 to be a promoter & Keto Lifestyle Coach!
Right now, Pruvit is offering 35% off MAX Experience Packs to help you get started RIGHT! If you are interested, please click the link below and get in contact with me asap!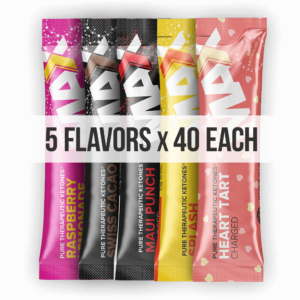 MAX Experience Pack
200 Servings
2x Heart Tart
2x Splash
2x Swiss Cacao
2x Raspberry Lemonade
2x Maui Punch

Learn More
$1300.00
$845.00
+$37.00 USD annual Promoter membership
______________________________________
​